Ebony is 34 years old with a comforting and competent voice, the kind you'd feel better getting bad news from. Like many single parents, she works multiple jobs to provide for her two children, Seth and Sage. She is the manager of an H&R Block office, tutors children and picks up shifts tending bar and waiting tables when she can. And twelve years ago, Ebony was homeless.
Ebony ended up at a homeless shelter almost twelve years ago the same way thousands of other Americans do. One hurdle in her life led to another until they were cumulatively insurmountable. She had a small child and was in bad relationship. She was the sole provider and then became pregnant with her second child. Her family was also stretched thin and unable to offer much assistance. In an effort to get out of that relationship, Ebony was left with no help caring for her eighteen month-old son, Seth. Without reliable, affordable childcare, she couldn't continue going to work and wound up in My Sister's House, a shelter for women and children. While there, the staff told her about Our House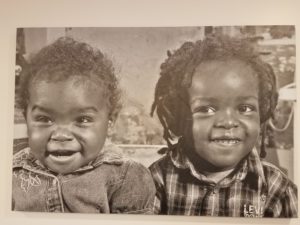 and informed her that she could get free childcare for her son so she could work and get back on her feet.
Ebony's son Seth began attending Our House while Ebony worked. Once Ebony's daughter, Sage, was born, both children attended Our House where Ebony felt they received an education second to none. "The standards were so high…they helped me set him up for educational success," Ebony says. She also stresses Our House's focus on "meeting each child where they are and not letting their outside circumstances be an excuse or an obstacle to their success." With Our House providing reliable, quality childcare, Ebony was able to get on her feet and build up her income. "With my childcare being a nonfactor, knowing that I had a place to take my babies, I could look to getting out of the situation." Hand in hand with her Family Advocate at Our House, she was also able to move into permanent housing.
The support Ebony received at Our House when she needed it most combined with the quality education her children received has had ripple effects that have lasted more than a decade. Ebony is now living in Ohio with her children, who are now 13 and 11. Both of those children, who could have easily fallen behind their housed peers, are thriving educationally and are both on honor roll at school. And Ebony has built relationships that have lasted more than a decade. She is still in touch with the kids' former teachers as well as other parents from her time at Our House. And she is bursting with pride at Our House's growth over the years. "To see it evolve to become, on a physical level, what they've always been fundamentally. They were offering the same level of service in that little room in that little house…now they've got this big, updated, technically advanced space."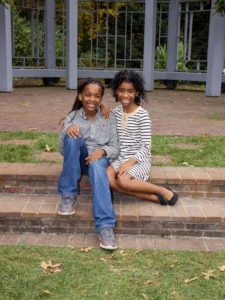 When Ebony reflects back to the time in her life when she was experiencing homelessness, she expresses how fortunate she was to have encountered Our House. "Hindsight being 20/20, my homeless experience was a good one, it was like blessings all the way throughout. And it really started with Our House."
Our House is now celebrating three decades of making intergenerational change in the lives of metro Atlanta citizens. Ebony's is one of the many lives and families Our House has touched and impacted for the better.