At Our House, we are game changers. We offer children and families experiencing homelessness the tools, support, and education they need to thrive. By tackling homelessness at its source, we help the generation experiencing homelessness today, and break the cycle for those most likely to
experience it tomorrow.
Our Mission
Our House breaks the chains of homelessness by providing quality early childhood education and comprehensive support services for families experiencing homelessness.
In 2014, Our House and Genesis Shelter merged to become one organization, serving families experiencing homelessness at two sites under the name and executive leadership of Our House. As a unified organization, we carry the legacy of an exceptional early childhood education center and emergency shelter.
History of Our House
Our House opened its doors in March 1988 to offer reliable, free childcare to metro Atlanta families experiencing homelessness. The founders, a group of local community volunteers along with Reverend Joanna Adams, took notice that families experiencing homelessness were required to leave emergency shelters early every morning—despite the weather conditions, despite the health status of all family members, and regardless of whether or not they had anywhere to go. The parents of these families, mostly single mothers, were given a relatively short amount of time to secure both employment and other housing before being required to permanently leave their shelters. Moved by this hardship, the founders realized that without reliable childcare, these parents were trapped in the cycle of unemployment, poverty, and homelessness.
Our House founders also understood that to effectively combat homelessness, programs and services had to address the root causes of homelessness: lack of child care, lack of education, and lack of work skills among parents experiencing homelessness.
Our House grew to meet these needs by offering year-round, free childcare; comprehensive support services for families; and a credential-earning job-training program.
History of Genesis Shelter
Genesis Shelter was founded in 1994 in response to an alarming upward trend in the number of new mothers leaving hospitals with their newborn babies, only to live in their cars or on the streets. Co-founders Rabbi Alvin Sugarman and Reverend Joanna Adams brought together a coalition of sixteen faith-based organizations who shared a collective mission to combat homelessness in metro Atlanta. Together, they formed Genesis Shelter, to serve these homeless newborns and their mothers.
Genesis opened its doors in 1994 in a facility provided by The Temple, and provided services there for ten years. In 2004, recognizing the need to expand its capacity, Genesis relocated to the shelter's current site at 173 Boulevard, a 76-bed facility with the daily capacity to serve 18 infants and their families. In 20 years of operations, Genesis provided life-transforming services to more than 3,000 people.
Our Leadership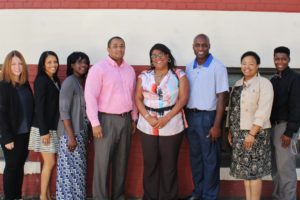 Tyese Lawyer
President & CEO
Tyese Lawyer holds a Master's Degree in Psychology and has worked with vulnerable and at risk populations for more than two decades, with over 20 years of experience in managing non-profit programs for homeless and low income families. She has also served as a NAEYC Validator and presently serves as Chair on the DeKalb County Continuum of Care Board of Directors. Ms. Lawyer has been Our House's chief executive since 2004.
Angelique Harris
Director of Early Childhood Education
Angelique Harris is an Early Childhood Educator with over 20 years' experience working with children ages birth through Pre-K.  After spending nearly, a decade as a Pre-K Lead Teacher and Project Director, she ventured into early education leadership as a Center Director. As a Pre-K Teacher and Center Director she worked with children and families from various socioeconomic backgrounds. Angelique holds a Master's of Education from Grand Canyon University. Angelique joined our house in October 2017.
Sean Monroe
VP of Programs
Sean Monroe, joined the Our House team in 2017, relocating from his former position in Richmond, Virginia. He holds a Master's in Public Administration, and has over 10 years of experience in human services/homeless services with a demonstrated record of excellence in case management, program development, and advocacy. Sean's passion for working with individuals in crisis led to his being named to the Top 40 Professionals under 40 list in Richmond and completing the Emerging Non-profit Leadership Program.
Diane Douglass
VP of Development
Diane Douglass brings over 20 years of fundraising, sales and marketing experience to Our House and has a demonstrated record of success in the areas of revenue generation and the recruitment and cultivation of productive fundraising boards and staff. She holds a Master's Degree in Public Administration. Diane came to Our House from Chicago, where she was the Vice President for Institutional Advancement at Black Ensemble Theater.
Kim Massenburg
Director of Housing and Family Services
Kim Massenburg joined the Our House team in 2017, relocating from Chicago where she was the Director of Social Services at the YMCA. Kim brings more than 10 years of clinical direct service experience with families, including more than seven years of program management experience. She holds a Master's of Counseling Psychology, is a Certified Alcohol and Other Drug Abuse Counselor and Certified Domestic Violence Professional, and is in progress to complete a Doctorate in Education, specializing in Counselor Education and Supervision.
Adele Gipson, Chair
CPC Advisors
Tony Smith, Vice Chair
Serta Simmons Bedding
Janora Hawkins, Secretary
Fragomen, Del Ray, Bernsen & Loewy, LLP
Lisa Brown, Treasurer
Brightworth Capital
Larry "Brent" Adams
Private Bank of Buckhead
Brendan M. Branon
Delta Air Lines, Inc.
Kim Collins
U.S. Trust, Bank of America
D'Ree Cooper
Turner Broadcasting System, Inc.
Aaron Danzig
Arnall Golden & Gregory
Laura Diamond
AT Kearney
Sally Erickson
Serta Simmons Bedding, LLC
David Evans
MedAssets, Inc. (Retired)
Beth Fain
Ernst & Young
Suzannah Gill
Epic Insurance Brokers & Consultants
Beth Hand
UPS
Michael J. Hertz
United Distributors, Inc.
Jeannine Lewis
Management Consultant
Kasey Libby
KCL Resolutions, LLC
Whitcliff McKnight
The Westminster Schools
David Neil Sharpton
The Home Depot
Rich Thomas
WSB TV
Marti Merritt Walsh
The Coca-Cola Company
Carolyn Brooks
Board Member Emeritus
Advisory Council Leadership
Advisory Council Members
D. Gayle Gellerstedt
Co-Chair
Audrey Morgan
Honorary Co-Chair
Barbara Levy
Co-Chair
Rabbi Alvin Sugarman
Honorary Co-Chair
Alfred B. Adams, Jr.
Reverend Joanna Adams
Carol Cooper
Ann W. Cramer
Jackie Cushman
Libby Gozansky
Gail Marshall
Jovita Moore
Albert Woodard